All humans and animals need to place their reliance on someone or something. Even though they themselves are not reliable. A dog completely trust his owner. A baby believes the mum even though others believe she is deceitful. Any human who 'believes' in a creator trust his God.
Reliance and dependability leads to one word TRUST.
TRUST, What is trust? you might ask yourself. Trust is believing in, in conviction of, or reliance on some person or things. It is also the dependence and hope upon something in the future.
Attributing trust to someone shows the person is TRUST-WORTHY
What comes to your own mind when you hear the word TRUST? Is it just a word in the dictionary, or a word that can not be truly attained, or is it the word that has been your long term resolution
You may wonder is it possible to believe, rely, depend on someone in this world of doubt and insincerity? People having such thought can not be far fetched. Why, this might be because people are used to the three letter word 'LIE'. One thing is certain no matter how sceptical we are, we all still place our trust in someone, a group of people, animals, a particular religion, a political party, sports, activities or other things.
How deceitfulness is displayed
1. Believing you always right.
2. Failure in ones part of an agreement.
3. Telling LIES.
TRUSTWORTHINESS brings the following advantages.
1. Saves the relationship you have with some one or a group of people that look up to you.
2. Positive comment will be made about you.
3. People will have Faith in you.
4. You will have a good and clear conscience.
5. You will be entrusted with more responsibility.
6. You will be love by many.
Been DECEITFUL only leads to
1. Disappointment in ones mind and people that are in expectation of something good from you.
2. You will later consider yourself a failure in the long run.
3. You are unreliable.
4. People view you as been wicked .
5. Little or no freeness of speech.
YOU TOO CAN BE TRUSTED.
How you may wonder?
1. Admitting willing to be wrong.
2. Stop been self-centered.
3. Learn how to give freely.
4. Readiness to change if corrected .
5. Most importantly be truthful.






"Been deceitfully might be the cheapest easiest and fastest to get in and out of something but been trustworthy is priceless", and
"Cheap things do not last".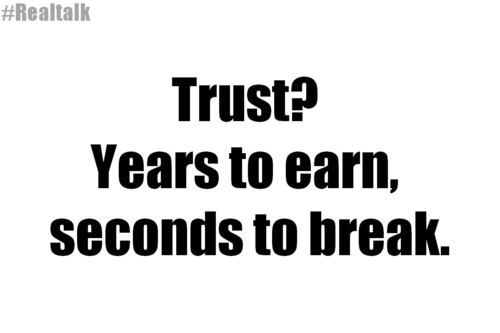 ALWAYS REMEMBER PEOPLE WILL APPRECIATE YOU MORE IF YOU ARE TRUSTWORTHY.







Written by NAKELIUM